Sparkling design motif decorative For All Festivities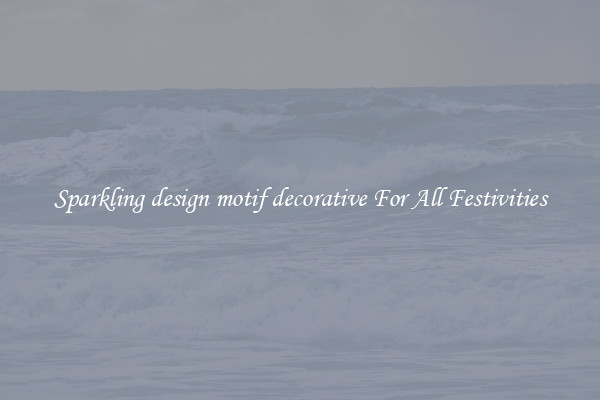 When it comes to celebrating joyful occasions, adding a touch of sparkle and elegance to the decor is always a fantastic idea. One of the most versatile and stunning design motifs that can be used for all festivities is the sparkling design. Whether you are planning a birthday party, a wedding, or any other special event, incorporating this decorative motif will instantly create a vibrant and enchanting atmosphere.
The sparkling design motif includes a wide range of elements, such as glitter, sequins, metallic accents, and shimmering lights. These elements can be used in various ways to add sparkle and glamor to any space. Here are some ideas on how to incorporate this design motif into your festivities:
1. Table Centerpieces: Create captivating focal points on your dining tables by using sparkling elements. You can place vases filled with flowers and wrap them with a glittery ribbon. Consider using sequined table runners or glitzy tablecloths to add an extra touch of elegance.
2. Lighting: Lighting plays a crucial role in creating a captivating ambiance. Incorporate string lights, fairy lights, or even chandeliers with crystals to enhance the sparkling effect. You can hang them from the ceiling, drape them along walls, or wrap them around pillars to create a mesmerizing atmosphere.
3. Invitations and Stationery: Make your event invitations and stationery shine by incorporating glitter or metallic accents. Choose shimmering papers or opt for metallic foiling to add an elegant touch. Additionally, you can seal your invitations with wax seals that have a metallic finish.
4. Backdrop and Photo Booth: Create a stunning backdrop or photo booth area using sparkling fabrics, sequined curtains, or even a wall adorned with mirror tiles. Guests would love to capture memorable moments against such a glamorous and mesmerizing backdrop.
5. Cake and Desserts: Give your sweet treats an alluring touch by adding edible glitters or gold/silver leaf to your cake or cupcakes. You can also use metallic cake toppers or sprinkle some edible sequins on the desserts to make them truly sparkle.
6. Party Favors: Leave a lasting impression on your guests by offering sparkling party favors. Consider giving out mini bottles of sparkling wine or champagne as a gesture of appreciation. You can also wrap up small trinkets or sweets in sparkly packaging for an added dose of glamor.
Remember, the key to incorporating the sparkling design motif is to strike a balance between elegance and subtlety. While the aim is to create a glamorous atmosphere, it is important not to overdo it and overwhelm the space. Combine the sparkling elements with neutral or complimentary colors to create a harmonious and visually appealing environment.
In conclusion, the sparkling design motif is a versatile and stunning choice for all festivities. By incorporating glitter, sequins, metallic accents, and shimmering lights, you can elevate the ambiance and create an enchanting atmosphere that will leave a lasting impression on your guests. So, embrace the sparkle and add a touch of glamour to your next celebration!