Versatile Collapsible Paper Gift Boxes: The Perfect Solution for All Your Gifting Needs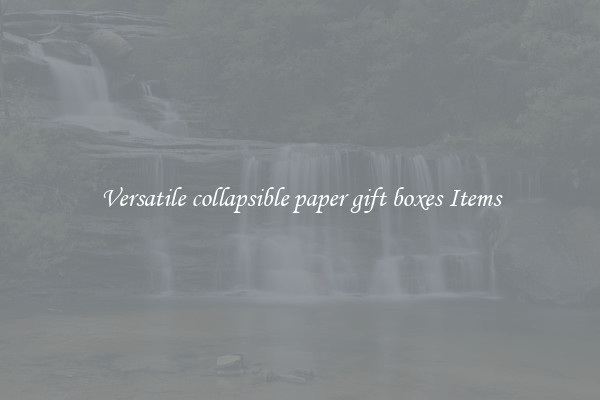 When it comes to gift-giving, presentation is everything. A beautifully packaged gift can bring joy and excitement to both the giver and the recipient. Versatile collapsible paper gift boxes are the perfect solution for all your gifting needs. Not only are they aesthetically pleasing, but they also offer a practical and convenient way to store and transport your presents.
One of the greatest advantages of collapsible paper gift boxes is their versatility. These boxes come in a variety of shapes and sizes, ensuring that there is always a box that fits your gift perfectly. Whether you are gifting a small piece of jewelry or a large item, you can find a collapsible gift box that is just the right size. Plus, with their collapsible design, these boxes can be easily stored when not in use, saving you valuable space.
Another benefit of collapsible paper gift boxes is their durability. Made from high-quality cardboard or paperboard, these boxes are strong enough to protect your gifts during transportation. They are designed to withstand the rigors of shipping and handling, ensuring that your gift arrives at its destination in pristine condition. No more worries about crumpled wrapping paper or damaged gifts.
Aside from their practicality, collapsible paper gift boxes also offer a delightful packaging experience. With their sleek and elegant design, these boxes are sure to impress any recipient. The recipient will appreciate the effort put into presenting the gift in such a thoughtful and sophisticated manner. After all, the packaging is the first thing that catches the eye and sets the tone for the gift itself.
Furthermore, collapsible paper gift boxes can be easily customized to suit any occasion. They can be adorned with ribbons, bows, or even personalized messages to add a personal touch to your gift. Additionally, they come in a wide range of colors and patterns, allowing you to choose the perfect box that complements your gift and the occasion.
Lastly, collapsible paper gift boxes are eco-friendly. As the world becomes more conscious of environmental sustainability, it is important to consider eco-friendly packaging options. Collapsible paper gift boxes are made from recyclable materials, ensuring that they can be reused or recycled after their intended use. By opting for these boxes, you can minimize your impact on the environment without compromising on the presentation of your gifts.
In conclusion, versatile collapsible paper gift boxes are a must-have for anyone who enjoys the art of gift-giving. They offer practicality, durability, and customization options while also being eco-friendly. With their elegant design and ease of use, they are sure to make any gift extra special. So, the next time you find yourself in need of the perfect packaging solution, consider opting for collapsible paper gift boxes and watch your gifts come to life in a whole new way.